When you put your home up for sale did you say "I'M NOT IN A RUSH TO SELL MY HOME SO I CAN WAIT FOR MY PRICE"?  Maybe you said "I WANT TO TEST THE MARKET AND  I CAN ALWAYS REDUCE MY PRICE LATER"
However, time is not your friend in real estate. There is an ideal time frame to sell a home and it falls within the first few weeks that the home is on the market. So you may not be in a rush to sell your home, but how long it takes you to sell will affect the price you get for your house.
One question that every buyer will ask when becoming serious about a property is "How long has this home been on the market?" Buyers ask this question for one reason – they want to know the likelihood that a seller will be willing to negotiate and by how much.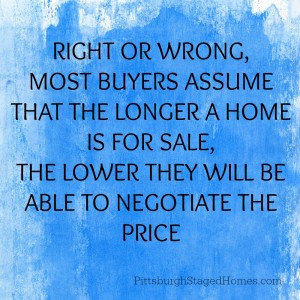 When you first list your home for sale you, as the seller, are the one in the driver's seat– not the buyer. Buyers know if they want to purchase the home when it is fresh on the market they need to bid close to the asking price…in fact the majority of homes that sell in the first 2-3 weeks sell at, or close to, full asking price.
At a certain point, depending on the market, the pendulum will swing the other way and the buyer will feel that they have the upper hand. This is because the days on the market heavily influence how much of a discount from the asking price the buyer will want. Thanks to the internet, today buyers can see exactly how long your house has been on the market and if you have taken any price reductions (and how many price reductions you have taken). They then factor that information into the price they are willing to offer.
And when the days on market become higher than the norm, buyers will start to ask themselves, "What is wrong with this home? Why has someone else not made an offer? After all this time, I wonder if they are desperate to sell." All of this information affects the price a buyer is willing to offer for your home.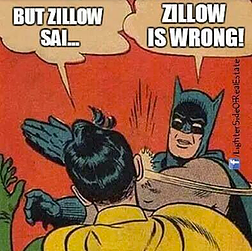 Repeat after me:
What Zillow says your house is worth doesn't matter.
What YOU think your house is worth doesn't matter.
What you paid doesn't matter.
The amount of money you put into the house doesn't matter.
While those things greatly influence what your house is ultimately worth…the only real answer to the question "What is my house worth?" is "What does the MARKET say your house is worth?"
There is no such thing as a "set price" for a home. The buyer is the one who will ultimately set the price, because your home is only worth what a buyer will pay, and today's buyers are willing to pay a lot more for a "model home" look.
If your house has been on the market for over 60 days, then unfortunately, the market is telling you that the "value" of your house is not as high as the "price" you are asking.
There are two things you can do …lower your price or increase the value of your home.
If you don't want to lower the price of your home (and really, who does?), then stage your home to help you sell it.  Homes that are staged are seen as "well-cared for" and "move-in ready" by most buyers, and a home that is well-cared for and move-in-ready is much more desirable to buyers and therefore has a higher value. That is how staging increases the value of your home!
---
Don't wait any longer to sell, call Pittsburgh Staged Homes at 412.427.2675, and find out how to make your home more desirable to buyers.